I am very pleased to report that Justin Driver will give Chautauqua Institution's 19th annual Robert H. Jackson Lecture on the Supreme Court of the United States, on Monday, July 31, 2023, at 3:30 p.m. He will speak about the affirmative action cases involving Harvard University and the University of North Carolina.
Justin Driver is the Robert R. Slaughter Professor of Law and Counselor to the Dean at Yale Law School, where he teaches and writes in the area of constitutional law. He is author of The Schoolhouse Gate: Public Education, the Supreme Court, and the Battle for the American Mind. This book was selected a Washington Post Notable Book of the Year and an Editors' Choice of The New York Times Book Review, received the Steven S. Goldberg Award for Distinguished Scholarship in Education Law, and was a finalist for the American Bar Association's Silver Gavel Award and Phi Beta Kappa's Ralph Waldo Emerson Book Award.
Professor Driver, a recipient of the American Society for Legal History's William Nelson Cromwell Article Prize, has a distinguished publication record in the nation's leading law reviews. He has also written extensively for general audiences, including pieces in Slate, The Atlantic, The New York Times, The Washington Post, and The New Republic. Driver also is an elected member of the American Law Institute and of the American Academy of Arts & Sciences and an editor of the Supreme Court Review. In 2021, President Biden appointed Driver to serve on the Presidential Commission on the Supreme Court of the United States.
Driver is a graduate of Brown University, the University of Oxford (where he was a Marshall Scholar), Duke University (where he received certification to teach public school), and Harvard Law School (where he was an editor of the Harvard Law Review). After graduating from Harvard, Driver clerked for then-Judge Merrick Garland, Justice Sandra Day O'Connor (Ret.), and Justice Stephen Breyer.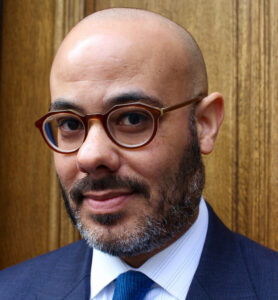 The Jackson Lecture at Chautauqua Institution is a leading annual consideration of the Supreme Court of the United States, occurring in the weeks following the completion of the Court's annual Term. Justice Robert H. Jackson, who served on the Court from 1941-1954, was a lifelong Chautauqua Institution attendee and one of its prominent lecturers. He lived and practiced law for twenty years in Jamestown, New York, which is located down Chautauqua Lake from Chautauqua Institution and is the site of the Robert H. Jackson Center.
**For information on attending Justin Driver's Jackson Lecture on July 31, click here: https://www.chq.org/event/the-19th-annual-robert-h-jackson-lecture-on-the-supreme-court-of-the-united-states-justin-driver/**
In past years, Chautauqua's Jackson Lecturers have been:
2005:  Geoffrey R. Stone, University of Chicago professor;
2006:  Linda Greenhouse, New York Times writer and Yale Law School lecturer;
2007:  Seth P. Waxman, WilmerHale partner and former Solicitor General of the United States;
2008:  Jeffrey Toobin, legal writer and book author;
2009:  Paul D. Clement, Clement & Murphy PLLC partner and former Solicitor General of the United States;
2010:  Jeff Shesol, historian, communications strategist, and former White House speechwriter;
2011:  Dahlia Lithwick, senior editor at Slate and Amicus podcast host;
2012:  Pamela Karlan, Stanford University professor;
2013:  Charles Fried, Harvard University professor and former Solicitor General of the United States;
2014:  Akhil Reed Amar, Yale University professor;
2015:  Laurence H. Tribe, Harvard University professor;
2016:  Tracey L. Meares, Yale University professor;
2017:  Judge Jon O. Newman, of the U.S. Court of Appeals for the Second Circuit;
2018:  Justice Rosalie Silberman Abella, of the Supreme Court of Canada;
2019:  Donald B. Verrilli, Jr., Munger, Tolles & Olson LLP partner and former Solicitor General of the U.S.;
2020 (online):  Ruth Marcus, Washington Post associate editor and columnist;
2021 (online):  Melissa Murray, New York University professor and Strict Scrutiny podcast co-host; and
2022:  Reva Siegel, Yale University professor.
For video of 2005-2017 Jackson Lectures and interviews with the lecturers during their visits to Chautauqua Institution, click here: https://accesschautauquacountytv.org/show /robertHJacksonCenterChautauquaLectures
For video of more recent Jackson lecturers, click the links below: