The 1945-1946 International Military Tribunal (IMT) that adjudicated the guilt of accused Nazi war criminals was a temporary entity. After holding a nine-month-long trial in Nuremberg, it delivered its international law and factual judgments in fall 1946 on the defendants' conduct. The IMT convicted eighteen men and three organizations as international criminals. It imposed sentences on the eighteen. It acquitted three other men. It then adjourned—it went out of business.
Although very little of the international Nuremberg trial was filmed, it all—a trial conducted in four languages—was audio-recorded.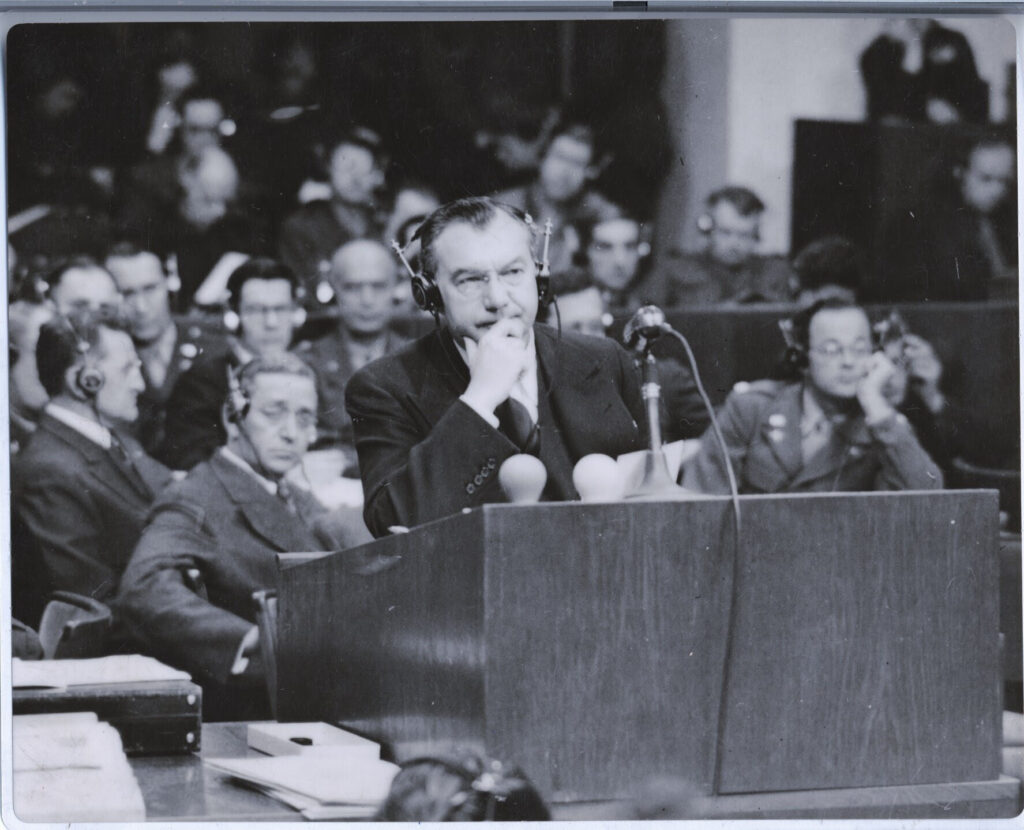 Chief U.S. prosecutor Justice Robert H. Jackson at the podium microphone,
connected to the recording system, in the Nuremberg courtroom.After the IMT concluded, those recordings were shipped from Nuremberg to the world's only permanent court: The International Court of Justice (ICJ), located in the Peace Palace in The Hague, in the Netherlands.
Across the next decades, the IMT recordings were stored at the ICJ but they were inaccessible.
They were unknown in public memory.
It is history's great fortune that the IMT recordings survived. In recent years, they have been digitized. They now are available for listening online, including here, in an organized fashion, on the Robert H. Jackson Center's website:
https://www.roberthjackson.org/nuremberg-trial-audio-video-2/
These Nuremberg trial recordings are the basis of a new National Geographic documentary film, "Nazis at Nuremberg: The Lost Testimony." The film premiered in the United Kingdom last month. It will be shown in the U.S. for the first time this week.
Here is the film's trailer:
https://www.nationalgeographic.co.uk/video/tv/nazis-at-nuremberg-the-lost-testimony#vpcp
Here is National Geographic TV's U.S. schedule; the film will be on this Thursday, January 26, 2023, at 1:00 p.m. (1300 hours) EST:
https://www.nationalgeographic.com/tv/watch-live/natgeo-east
I am honored to be one of the expert "talking heads" in the film.
Please watch, set your TiVo/DVR, and spread the word.