At the United States Supreme Court, today is "First Monday," the start of the Court's new term.
Justice Ketanji Brown Jackson, the Court's newest member, has been an associate justice since summertime—after receiving her commission from President Biden on April 8, Justice Jackson took the Supreme Court oath and began to serve as a justice on June 30. She worked through the rest of the summer in preparation for the coming term. Justice Jackson's investiture ceremony was last Friday. This morning, she, with colleagues, took the bench for the first time to hear oral arguments.
In conjunction with Justice Jackson's investiture, people who visited the Supreme Court took photographs of her chambers (office) door, and specifically her "JUSTICE JACKSON" nameplate, and then shared their photographs widely. Here is one example—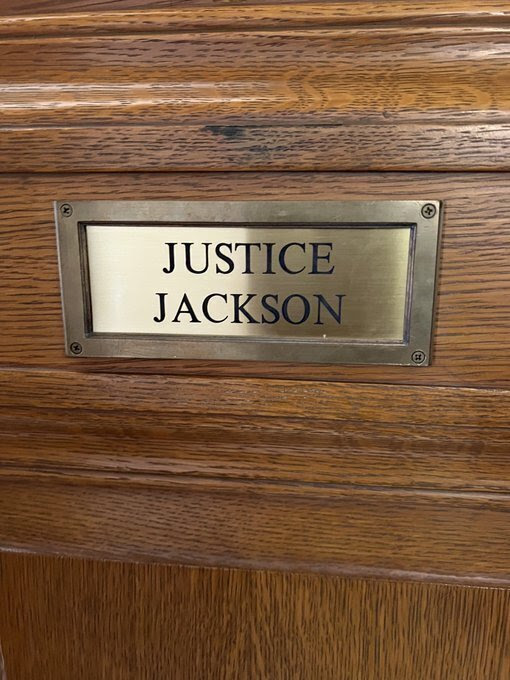 In reaction to seeing "JUSTICE JACKSON" on the door of a U.S. Supreme Court justice's chambers, some people then asked, I know not entirely seriously, whether this shiny, new-looking nameplate is that same one that was on the door of Justice Robert H. Jackson's chambers during his Court service (1941-1954).
It is not. Justice Ketanji Brown Jackson's chambers door nameplate does not include stray letters—"MR."—that were on Justice Robert Jackson's door, and that have nothing to do with being a Supreme Court justice.